Kds Trading Cards & Collectibles
|
home




Looney Tunes Back in Action

Sorry for the bad scans the cards look much better in person.
Base Set $3.99
Box Loader set $ 3.99 3 card set
Master Set $800.00 Includes Lonney Tunes back in action trading cards set.
You are bidding on a Looney Tunes Back In Action Master Set. You will get the complete base set,
the Case Topper card, the 3 card box loader set, the 9 card foil "Official Looney Tunes Tours Cards",
The 6 card "Acme Cards" insert set, the extremely limited to 300 special multi-case purchase
Poker Chips. All three Orange,Yellow , Blue. Auto's included are Steve Martin, Heather Locklear,
Brendan Fraiser, Jenna Elfman, the director Joe Dante, the wrestler Bill Goldberg and the guys who
play the Warner Bros, Dan & Don Stanton. You will get the 8 Auto's & 8 redeemed cards, Only have
been punch holed by Inkworks. There will be no Addressees written in the redemption cards.
Empty Hobby Box, promo card, Sell Sheet & wrappers.
There was only 50 Yellow back in action casino chips
All 8 Auto's part of Master Set. Case Topper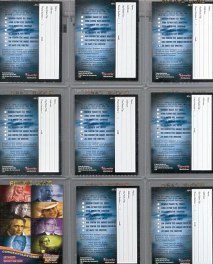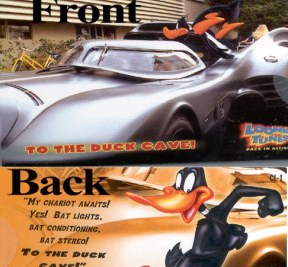 Acme Card Set Tour Card Set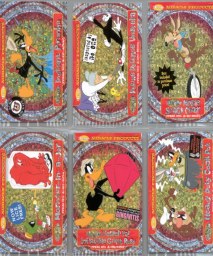 Base set with promo sell box wrappers Box Loader 3 card set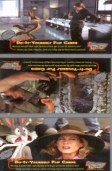 Blue Chip Orange Yellow



Two Promo Car Show 8 Autos